It is always nice to say "great job" to staff members for their hard work and dedication, whether it be in person or in writing. The Pennsylvania Association of Pupil Services Administrators (PAPSA) offers an opportunity to take things a step further and recognize them at the state level. PAPSA supports all student/pupil services staff, groups, and initiatives and feels passionate that they should be recognized for their creativity, as well as their behind-the-scenes and front-line work.
Each year, at its annual conference, the PAPSA Executive Board may recognize one or more school entities within the Commonwealth based on the quality of their student/pupil services program. A committee composed of volunteers from the Executive Board meets in February of each year to consider nominees for the award.
School entities throughout the Commonwealth are notified of the process for submitting an award nomination via the PAPSA News and the PENN*LINK system. A nomination packet is sent to each interested party. Notification shall take place no later than December.
The award is presented at the annual PAPSA conference and the winner(s)  asked to make a presentation to the audience concerning those aspects of their program which they deem especially worthy of note.
Click to access the 2023-24 Robert B. Cormany Award of Excellence in Student Services Form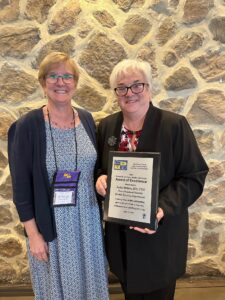 Anita Miklos, RN, CSN, Norwin School District Health Services, received the 2023 Robert B. Cormany Award of Excellence in Student Services. Pictured L-R: PAPSA Executive Board Member Stacey Snyder and Cormany Award recipient Anita Miklos
Award Winners
2022-23 Anita Miklos, Norwin School District Health Services
2021-22 West York Area School District, Bulldog Pantry Program
2019-20 Methacton School District, R.E.A.C.H. Program
2018-19 Community School Based Behavioral Health Program, Riverside School District
2017-18 Mary Pritchard, Nazareth Area School District
2016-17 Kara Voycsik & Kathy Minnich, York Co. Youth Mental Health Alliance
2013-14 Bucks County Technical High School
2012-13 Hempfield School District
2011-12 State College Area School District
2010-11 Upper Darby School District
2009-10 Dr. Paula Wagner, Director of Pupil Services, Great Valley SD
2009-10 Dr. Adrienne Scurry, Pa. Virtual Charter School (PAVCS)