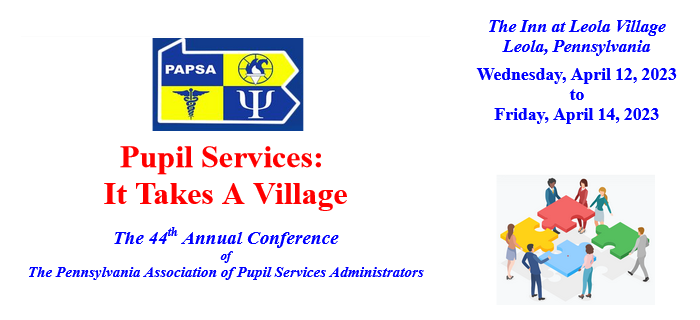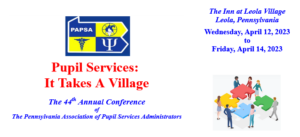 ---
44th Annual PAPSA Conference Re-cap

On April 12-14, 2023 PAPSA's 44th Annual Conference was held at The Inn at Leola Village. The title of the conference was Pupil Services: It Takes a Village and it was attended both in-person and via virtual means. Streaming of the conference was expertly provided by Lincoln IU 12.
Featured conference presenters included Carole L. Clancy – Director of the PDE Bureau of Special Education, who spoke on Hot Topics in The Delivery of Special Education Services. As always, Director Clancy's presentation was enlightening and provided us with an up-to-date report on what's happening in Harrisburg.
Thursday's sessions opened with Nadeen Herring, M.A., from blaq noyz, LLC in partnership with the Children's Hospital of Philadelphia (CHOP). Her presentation on Gender Identity Issues and how such issues affect students, staff, and the school community provided attendees with a valuable insight into an issue that has come to the forefront of school equity discussions. Her expertise in this are resulted in a riveting, highly-rated session.
Following Nadeen Herring's talk, attendees were treated to a unique program from the Hamburg Area School District whence a team of professionals talked about their award-winning ESY Camp: A Boundaryless Learning Environment. Joining the team were students and parents who discussed how this ESY program has benefited them. In keeping with presentations involving students and staff, the Hatboro-Horsham Link Crew high school transition program showed attendees how the school students welcomes freshmen. This program helps to make incoming freshmen feel comfortable throughout the first year of their high school experience and is built on the belief that students can help students succeed through training mentors from junior and senior classes to be Link Crew Leaders. Those upper classmen act as positive role models, mentors, and student leaders to help guide freshmen students. As an added treat, in-person attendees played the role of freshmen students, experiencing firsthand the effectiveness of the program.
Thursday's sessions also featured a presentation from Lancaster-Lebanon IU 13's Director of Early Childhood and Special Education Services for IU13 Sherry Zubeck. Sherry teamed up with PAPSA Executive Board member Dr. Kathy Setlock, who serves as the Director of Pupil Services for the Palmyra Area School District, to present Specialized Induction for Unique Roles. The innovative program, developed by IU13 and surrounding school districts, helps to address the needs of all staff, particularly those with unique pupil services roles.
The conference concluded on Friday with the 20th Paul Stevens Memorial Legal Seminar, which again featured attorneys Jane Williams, Sharon Montanye, and Tom Warner from the law firm of Sweet, Stevens, Katz, and Williams, LLP. The morning addressed legal issues impacting special education and, as always, was loaded with invaluable information from top-flight school attorneys. The afternoon session focused on legal issues related to pupil services and featured a fun and highly informative multiple choice quiz.
Successful as it was, the conference was not without its challenges. Unfortunately, Colleen Schultz, Division Chief of the Pennsylvania Department of Health's Division of School Health Services, was taken ill and unable to provide the annual School Health Services Update. However, her excellent presentation has been made available to attendees for their perusal. PAPSA wishes Colleen all the best and looks forward to welcoming her to next year's conference.
Trooper that he is, PAPSA President Matt Ammons stepped up to the plate as a pinch hitter for Colleen Schultz and rallied those present with a motivational speech on what it means to be a pupil services educational leader.
In addition, an unexpected delay in Thursday morning's festivities allowed this year's conference sponsors to address attendees with information on the effectiveness of their products. PAPSA is truly blessed to have such a fine group of sponsors that provided outstanding services.
Our sincere thanks to all of our presenters, sponsors, and both in-person and virtual attendees for helping us to enjoy another great conference!
Save the Date for our 2024 Annual Conference
We look forward to seeing you on April 10-12, 2024 at The Inn at Leola Village!
---
2023 NAPSA Conference
The 2023 annual conference of the National Association of Pupil Services Administrators (NAPSA) will be held on October 15-18, 2023 at the Drury Plaza Hotel Celveland Downtown. Further information will be posted on NAPSA's website and will appear in the PAPSA News as well. Make plans to attend!