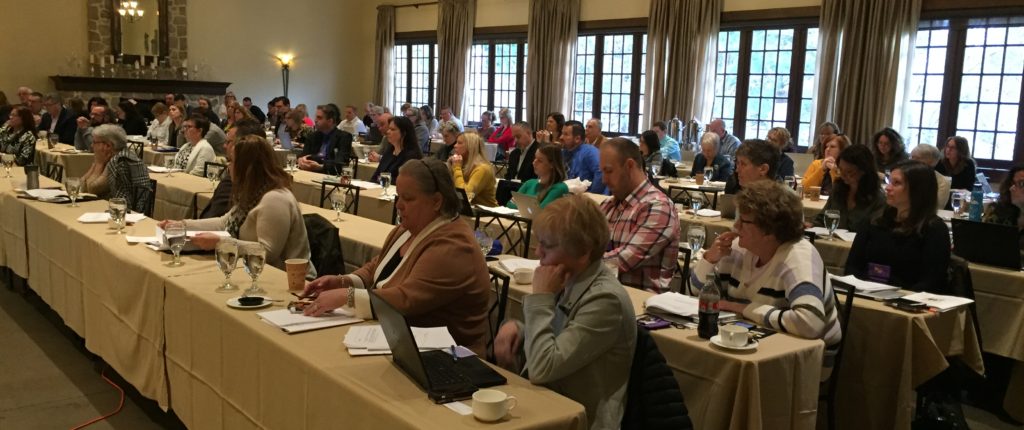 ---
41st Annual PAPSA Conference Re-cap
From April 3-5, 2019, PAPSA held it 41st annual conference at The Inn at Leola Village. This year's conference enjoyed the highest attendance in the past several years.
On Wednesday, April 3rd, PAPSA was honored to have PA Secretary of Education Pedro Rivera welcome conference attendees, updating everyone on what's happening at PDE, and holding a great Q&A session.  For PAPSA to have the support of Secretary Rivera and PDE is critical to its mission of helping PA's students to get the most from their K-12 educational experiences. After a school health update from the PA Department of Health's Sue Templin, which was followed by Secretary Rivera's session, attendees were treated to a President's Reception, which was sponsored by GHR and featured outstanding hors d'oeuvres.
On Thursday, April 4th, after a terrific continental breakfast sponsored by Gaggle, attendees were treated to an excellent keynote session by Attorney Bill Zee from the firm of Barley Snyder LLP. Attorney Zee's session, titled Restorative Justice for All:  The Intersection of Behavioral Supports  and the Implementation of School-wide  Restorative Practices, was both highly informative and engaging. Following that presentation, and after a wonderful lunch sponsored by Frontline Education, we held our annual business meeting. At that meeting, we heard reports form our President, Secretary, Treasurer, and Executive Director, as well as a NAPSA update. Those present also took action as a revision to the bylaws passed unanimously and an election was held for Secretary and President-Elect. Results from that election showed Jeanne Knouse being re-elected for another term as Secretary and Janilyn Elias becoming the President-Elect. President Tom Burnheimer also announced the appointment of Kathy Setlock from Palmyra and Chris Pugliese from Upper Darby to new four-year terms as members of the Executive Board and Lou Chance from Downingtown Area to fill a vacancy on the Board that will expire in 2020. The Robert B. Cormany Award of Excellence in Student Services and the new PAPSA Distinguished Service Award  were also presented. This year's Cormany Award winner was the Riverside School District's CSBHH program. Honorable Mention went to Methacton's R.E.A.C.H. program and the Lehigh Career and Technical Institute's Regina Naradko. PAPSA Distinguished Award winners were NAPSA's Wayne D. Fausnaught and Abington School District's Brooke Jacobs. Honorable Mention went to Eric Gladfelter from Palisades. President-Elect Tammy Wood-Moghal presented a plaque to President Burnheimer in recognition of his exemplary service over the past two years as PAPSA's President.
The Thursday afternoon session began with PAPSA  Executive Board Secretary Jeanne Knouse pinch hitting for an ailing Dr. Seria Chatters. Jeanne presented a highly praised session titled Restorative Practices in 1.5 Hours or Less. For Jeanne to do such an outstanding job on a moment's notice is a testament to the caliber of professionals we have in our organization. Following Jeanne, was a tremendous presentation by the State College Area School District's REACT program titled How Students Use Restorative Practices. The day wrapped up with an excellent Networking Reception sponsored by Houghton Mifflin Harcourt featuring some absolutely scrumptious hors d'oeuvres.
The conference closed on Friday with another outstanding Paul Stevens Memorial Legal Seminar. As has been the custom, attorneys from Sweet, Stevens, Katz & Williams provided invaluable information on both Special Education and Pupil Services legal issues. The legal seminar was a positively perfect ending to a great conference!
NOTE: PAPSA is blessed to have sponsors who contributed to the conference and presented their excellent wares and programs to attendees. Frontline Education, Gaggle, General Healthcare Resources (GHR) Education, Houghton Mifflin Harcourt, and Kinvolved are valuable partners to our organization. Our heartfelt thanks to them!
---
2020 NAPSA Conference: The 2020 annual conference of the National Association of Pupil Services Administrators will be held at the Drury Plaza Hotel Pittsburgh Downtown from October 25-28, 2019. Further information will be posted on NAPSA's website and will appear in the PAPSA News as well. Make plans to join us!