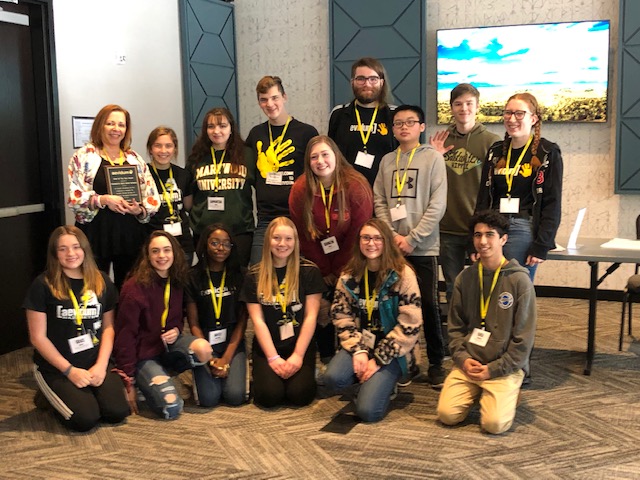 The Nazareth High School Aevidum Club has been named the 2018-2019 Aevidum Club of the Year. As per the Aevidum Facebook page, "[t]hese amazing student leaders and their very dedicated advisor, Mary Pritchard, have spread the Aevidum message all throughout the state of Pennsylvania, training nearly 2,500 students since 2015." Mary Pritchard is the PAPSA 2017-18 Robert Cormany Award winner.
One of the most noteworthy of Nazareth's achievements in 2018-19 was its collaboration with Greater Latrobe Senior High School whereby Nazareth students gave training to GLSD leaders on things from coping with personal anxiety to helping others who may be struggling. Nazareth students also stayed with a few of the Greater Latrobe students for the night to gain a better understanding of the GLSD school environment.
Other schools form that area of Western PA, including Mount Pleasant and Norwin, also came to Greater Latrobe to see how Aevidum could be of benefit to their schools.
The Nazareth-Greater Latrobe collaborative effort saw PAPSA's Mary Prtichard link with PAPSA Executive Board member Dr. Cindy Soltys (Retried from Greater Latrobe) and PAPSA member Laurie Golobish (Greater Latrobe's Director of Pupil Services) to make the program a terrific success. PAPSA member Stacey Snyder, Norwin's Director of Special Education and Student Services helped to facilitate her school district's participation. It is wonderful to see these valued PAPSA members working together on such a worthwhile project.
Though Aevidum began with a small group of motivated students and educators at Cocalico Senior High School in Denver, PA in 2003, it has since expanded across the Commonwealth and beyond.